Westside Youth Team Dance Club
KELOWNA – WEST KELOWNA – PEACHLAND
British Columbia, Canada

Update for Fall, 2013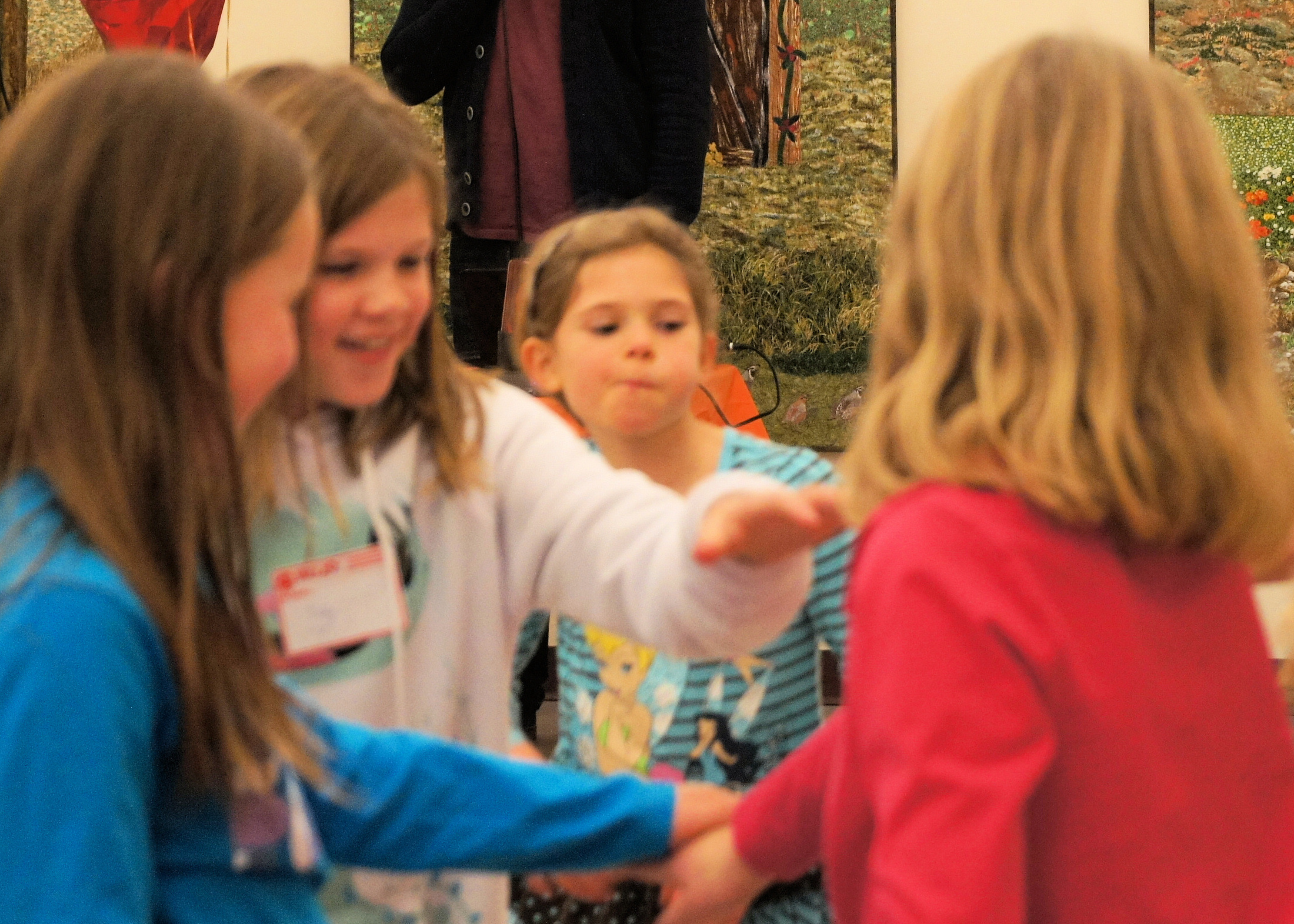 WELCOME!
The weekly fun is about to start again!
We're looking forward to having our dancers from last Winter/Spring return and also to meeting newcomers.
We invite newcomers to 2 free introductory sessions on Tuesday September 10th and 17th. Come try the dancing with no commitment, no obligation. It will be awesome!
12 regular Tuesday sessions will follow by registration.
22 year-old Dustin McGifford of West Kelowna is our instructor and he's doing a fabulous job of teaching the dancers. His music includes the very latest pop tunes. Dustin has a great singing voice!
Also, teaching simple two-person dances and circle mixers is Brian Elmer, familiar to students who've danced under our in-class school program. This season we plan to introduce some basic "round dancing," which is choreographed ballroom dancing. Yes—kids can do it!
Contact us to inquire about joining-in:
teamdancing@hotmail.com – phone: 250-768-2694
THE BASIC DETAILS
The kind of dancing that we enjoy is not hard. It's based upon today's style of square dancing in which the only "step" is to walk! It can be the perfect thing for those kids who don't take interest in traditional sports activities.
Our location is the hall at the Westbank United Church, 3672 Brown Road, just off the southbound Highway 97 couplet in West Kelowna.
(We are not affiliated with the church.)
The start time is 6:00 p.m. and we continue the fun until 7:30.
We suggest that our group is most ideal for children aged 8 & up.
Younger kids will be considered if their parents feel that they have the attention span to focus on 90 minutes of instruction.
We're interested in establishing a dance session just for teens and, if there's enough interest, will consider extending the same Tuesday evening to include a session to follow the pre-teens.
The Westside Youth Team Dance Club is a non-profit youth group that was originally formed in February, 2003. The club had been on hiatus for a while until a new caller-teacher was identified but we re-started with good attendance in the Winter/Spring of this year.
Now, we're ready to help pre-teens and teens discover more of what we call Team Dancing!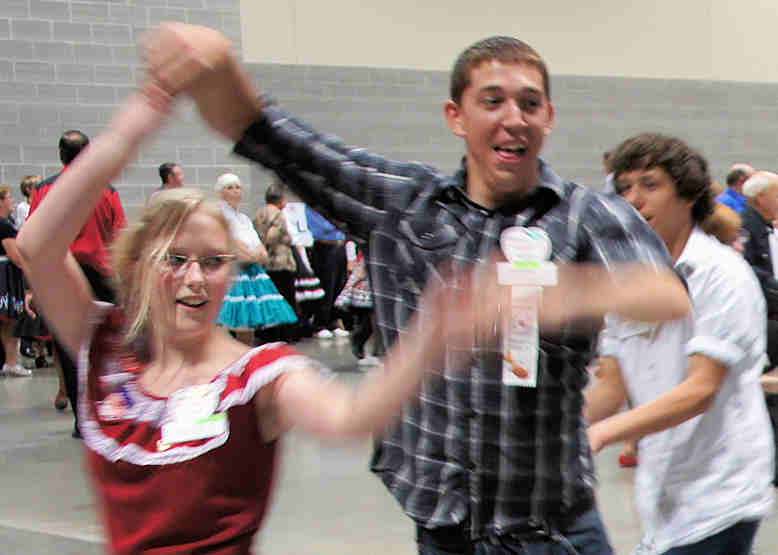 ABOUT TEAM DANCING
Team Dancing involves working in teams of two or more. It's social dancing featuring a high energy form of modern square dancing that requires a team of eight. It presents lively music to which the children relate, such as tunes by One Direction, Katy Perry, Lady Gaga, Michael Jackson and others.
For the younger ones, we have tunes like Gummi Bear and Hamster Dance. We'll also introduce some 2-person dances.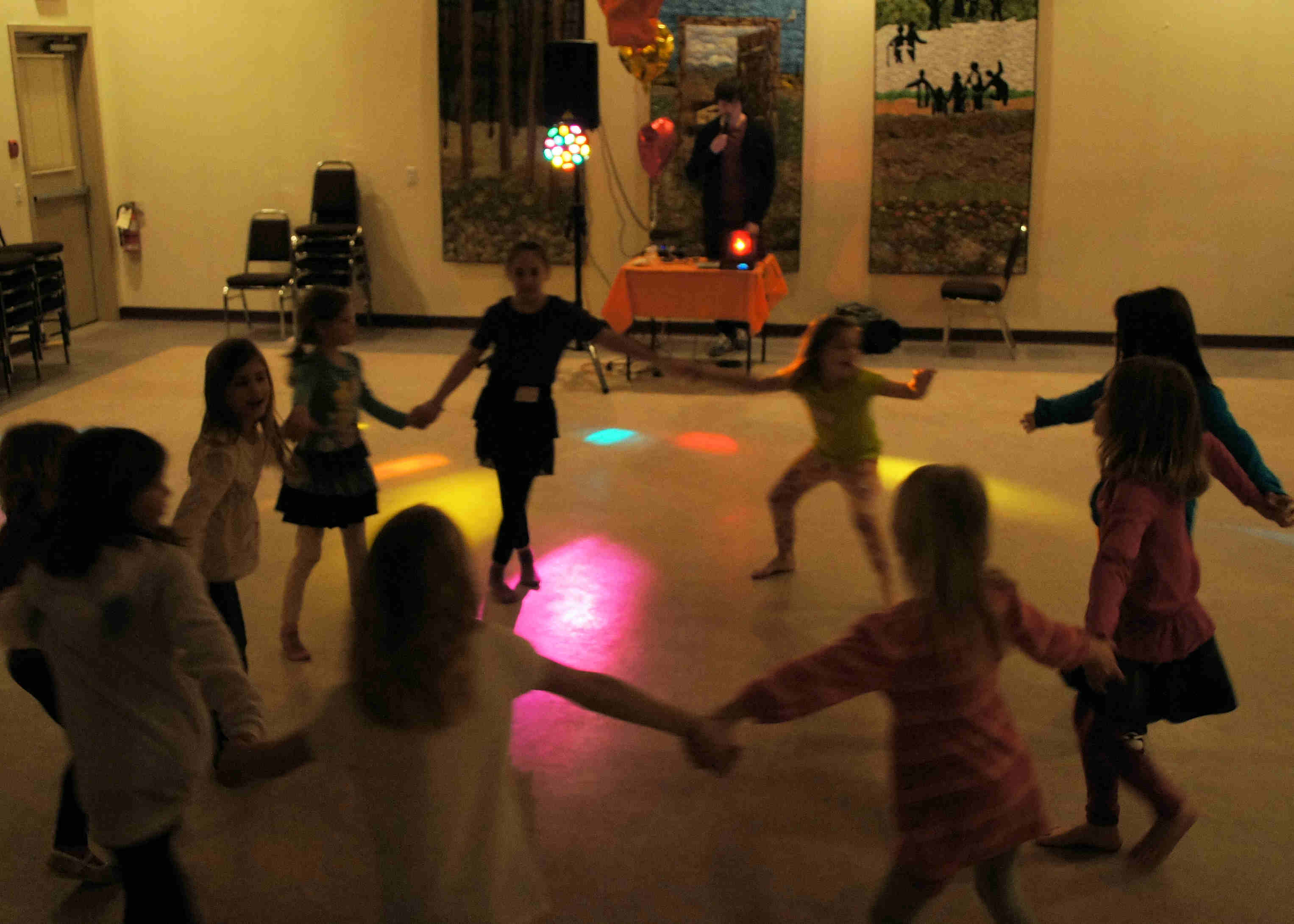 It's awesome fun and laughs, cool music and new friends that make our dance club great. We've added special effects lights that create a disco-style show with coloured beams that move to the music.
We've introduced our light show every day of our school program.
See our "School Program" category on this web site for more information.
SUGGESTED AGE – ATTIRE – FEES
Newcomers are very welcome, both boys and girls, and parents are invited to step onto the dance floor and learn too.
It's family-style dance fun -- and fitness too!
No previous dance experience is necessary. The suggested minimum age is 8 years old because we find that this kind of dancing requires a good attention span. If parents of a younger child know that he or she has the ability to concentrate for the 90-minute instruction period, their child will be welcomed. We encourage you to car pool with your friends to make it fun to travel to the dance and save on gas too.
Just come as you are in comfortable clothing and carry in clean shoes that will not leave marks on the floor. The dancing that we do requires that you listen carefully to the instructions, so bring your "listening ears!"
The registration fee is only $120 per dancer and we're planning 12 sessions from September 24 to December 10th. A separate Winter/Spring session to start in January is also planned.
The instruction is progressive, so a drop-in structure is not appropriate.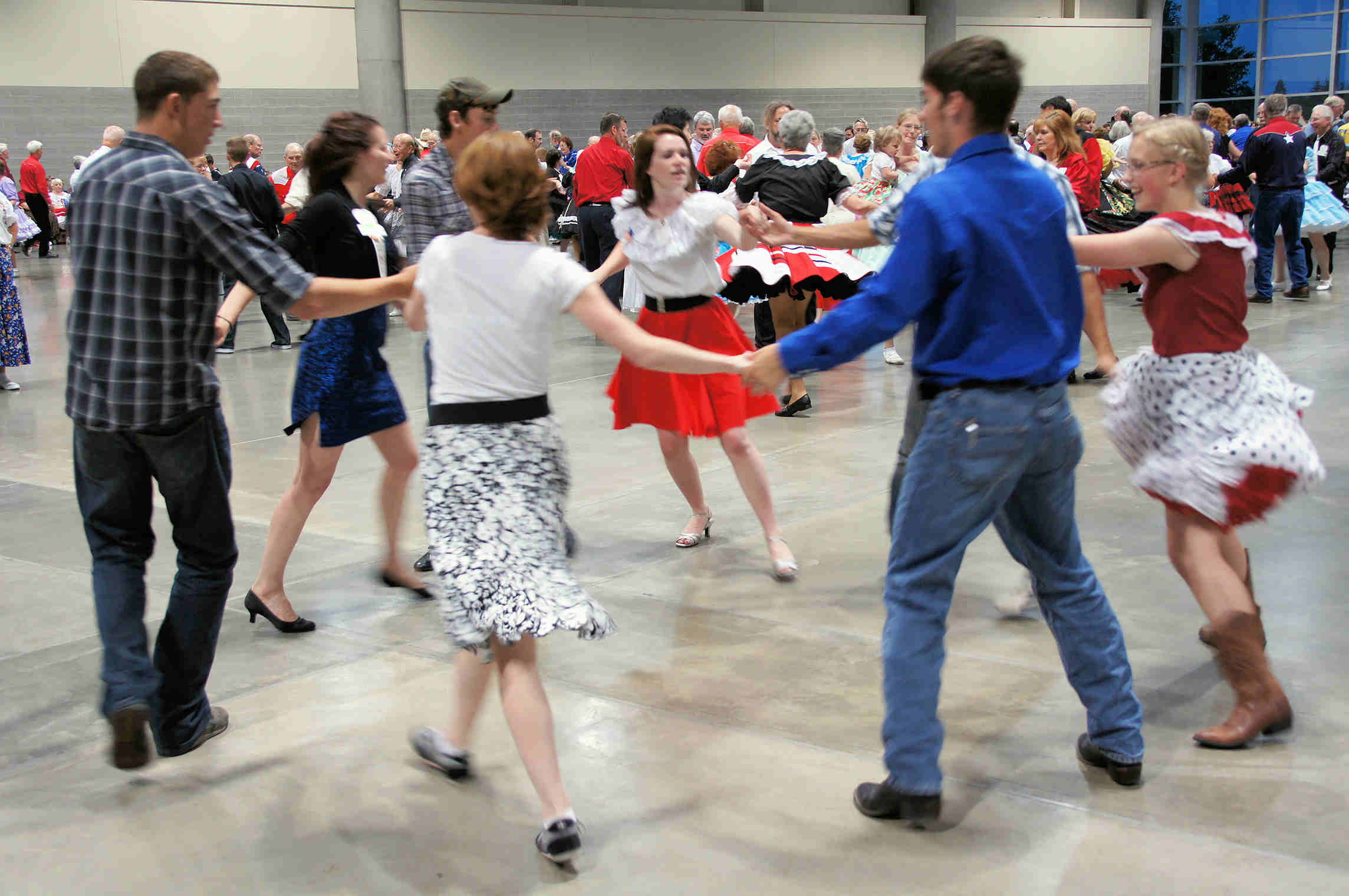 BENEFITS OF DANCING
Kids like this kind of dancing just for the fun of it but parents see how it benefits a child's physical and mental health and social interactivity. The instruction improves listening skills, cognitive skills, laterality and general socialization in young people.
Also of benefit is the aerobic fitness element where a couple hours of team dancing can equal a walk of several kilometres.
Mental health benefits exist too by the fact that the fun experienced by moving to music and concentrating on the calls helps relieve stress, tension and the worries of the day. Success on the dance floor contributes to a young person's self-esteem and builds a positive outlook.
Today's kind of square dancing fits perfectly under the "Team Dancing" title because you have to co-operate with seven other dancers in order to be successful--it's teamwork! Of interest to parents is that team dancing is ideal to introduce young people to social graces and the values that go along with them including courtesy, respect and tolerance. It's particularly good to develop wholesome boy/girl relationships.
The dance program that we offer serves an ever increasing need for active living among children. It's a problem that the majority of kids remain sedentary during the after-school hours. Research going back to 2007 reveals "a troubling association between sedentary behaviours and increased reports of anxiety, depression and low self-esteem among adolescents." This information was released in a report card on physical activity for children and youth. It was published by the non-profit group Active Healthy Kids Canada.
THE FUN AHEAD & SPECIAL DANCES
We'll also introduce some basic choreographed ballroom dancing which is called round dancing. In that kind of team dancing, the direction you'll move and the steps you'll take have been planned ahead to a particular piece of music. It's similar to what you see on the tv show "Dancing With the Stars" but a lot easier. We enjoy circle mixers as well, where everybody dances at once in a big circle and changes partners. We also learn some special dances for extra fun.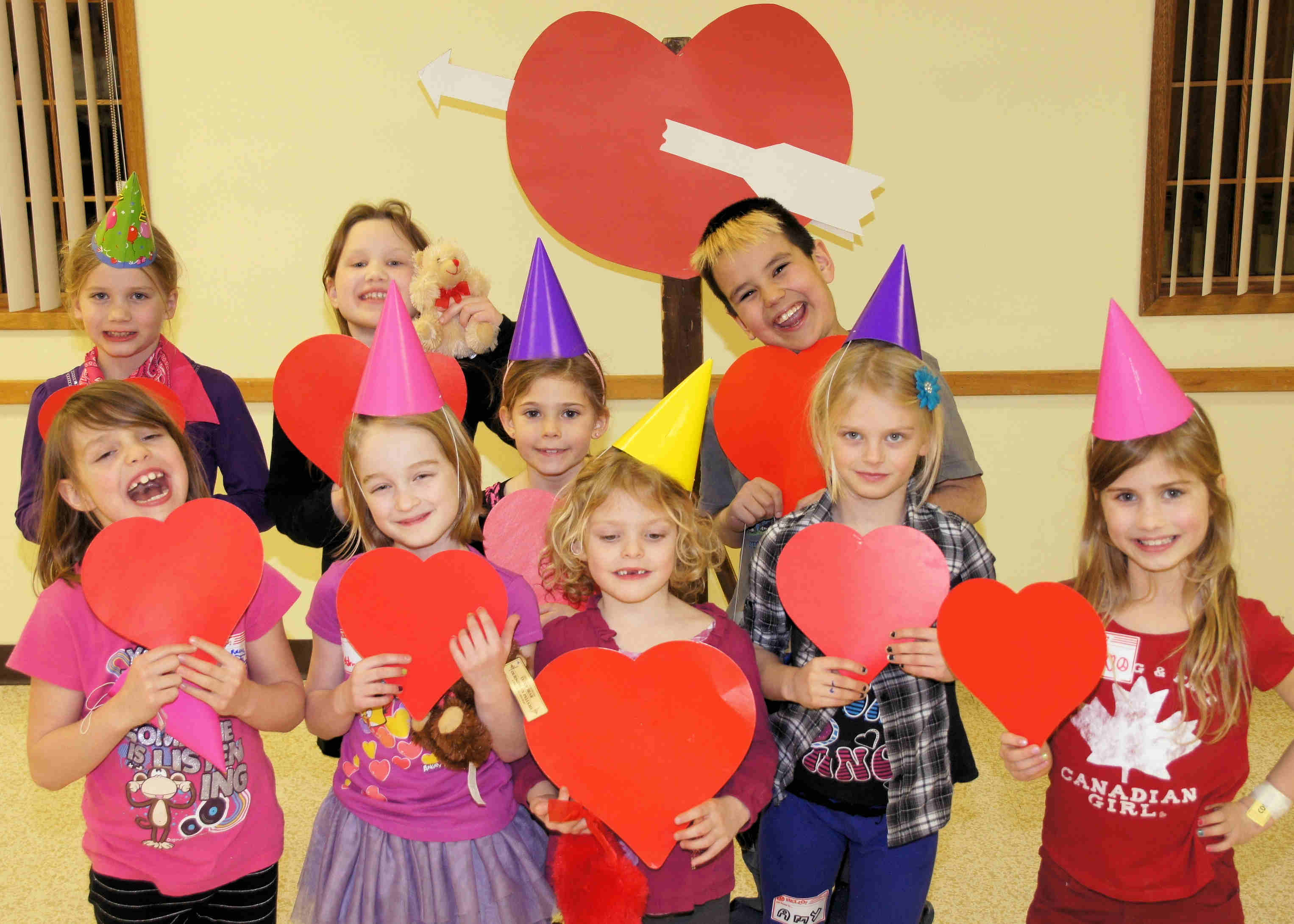 At our club, our dancers have enjoyed special cool parties! We've had a Halloween party with scary decorations complete with a toy bat that flies down from the ceiling. We closed the dance with cake and ice cream. At one of our Christmas parties we all danced in Santa hats and the dancers got a gift and treats including Christmas punch, Christmas cookies and Christmas Ice Cream Floats topped with red and green candies and whipped cream. In February we've also held a Valentines Party, complete with decorations, a ring toss and prizes.
2007 was an exciting year for us because, for the first time ever, we brought the 58th Annual Pacific Northwest Teen Square Dance Festival to the Mount Boucherie Complex in late April. It's an international dance competition that attracts hundreds of pre-teen and teen competitors from Washington and B.C. Several Central Okanagan schools competed in the schools category.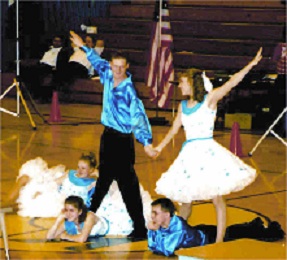 INSTRUCTORS & OUR SCHOOL PROGRAM
It's fabulous to have 22-year old Dustin McGifford of West Kelowna teaching our group now! Dustin started dancing with his parents as a pre-teen at age 9 and has had the opportunity over the years to see how committed youth can be to the activity.
Some kids have made the recreation a lifelong hobby. Many of today's young and middle-aged adult B.C. square dance callers have come from teen square dance clubs.
Now that he has learned to call and teach square dances, Dustin looks forward to sharing the fun of the activity with area youth. He's also instructing adults in West Kelowna and has guest-called at weekend dance events, Festivals and Conventions.
Dustin says "the dance form is an ideal source of fun and social interaction -- as youth learn the moves and build confidence on the dance floor their growth and development, especially with regard to improved self-esteem, can be remarkable."
There is a "curriculum" in modern square dancing but he's sure that our kids will learn the material in accelerated fashion.
Above all, he wants to keep it fun!
A big motivator for youth in the recreation is the Teen Square Dance Festival, having a track record exceeding 50 years. It's an intense one-day competition and Dustin has competed there in many categories and is proud to own several trophies for his efforts. He thinks it conceivable that our club could compete in the near future.

Our group owes much to retired caller Glen Bailie who taught square dancing in the elementary schools of the Central Okanagan for many, many years. He instructed literally thousands of students to dance. At many schools he taught every student, including those in Kindergarten. Long time co-ordinator, Brian Elmer, assisted and handled all the bookings. Donations from the various schools met out-of-pocket expenses and helped build the non-profit dance club's treasury.
At this time, Brian has assumed calling duties to introduce our dance form in the schools and is inviting those students to the club. Sometimes, adult dancers from the Central Okanagan area volunteer to assist with the instruction.
It's been great fun to introduce team dancing most recently to the students at A.S. Matheson Elementary and Black Mountain Elementary in Kelowna. Great dancing students!
Thanks to several other elementary schools for having us provide instruction in recent times, including: Watson Road, Bankhead, Rutland, Belgo, Shannon Lake and Chief Tomat.
The in-class school square dance program continues this school year and teachers are encouraged to book soon! Contact Brian at the information seen below.
ABOUT OUR GROUP & ITS PEOPLE
Our club is operated by volunteers from the adult square dance community in the District of West Kelowna. These volunteers give their time to support the young dancers because they believe this type of dancing is a valuable social recreation for kids. The volunteers have assisted with dance instruction in local schools and all passed the required criminal record checks.
The Dance Club is a safe, well-supervised environment for children where they can have fun and learn an excellent dance form at the same time. Please support your child in their interest in our group and their discovery of the fun, fitness and friendship found in team dancing.
We look forward to meeting you on the dance floor!
CONTACTS & MORE INFORMATION
For more information about our club,
contact Brian and Rosalyn at 250-768-2694
e-mail: teamdancing@hotmail.com
A promotional web page promoting youth in square dancing, produced by SQUAREUPB.C. for the B.C. Square and Round Dance Federation, provides more general information about youth involvement
with photos, a video and links at:
www.KidsLoveToDance.squaredance.bc.ca

Index
Home..LatestNews
School Program
Callers Profile
Links
What a Party
About our Club
Instructional Materials
Search Engine